Sleep Nursery Environment
Sleep, precious sleep.
It's the top of every new parent's wish list and you'll wonder how you ever did without it. Anything that helps your baby sleep soundly will help you get some much needed rest too.
We're here to help you create a snoozy and safe nursery space for your newborn, with all the comfort and reassurance of soft lights and soothing sounds. And as they grow we can help your little one develop healthy sleep habits, so they can settle themselves back to sleep through the night and learn when it's okay to jump out of bed refreshed and ready for new adventures.
Anything for a quiet night
We've been making baby products for more than 50 years, so we've heard a lot about sleepless nights from parents. In December 2017 the Gro Company became part of the Tommee Tippee family, allowing us to introduce many new sleep products to customers across the globe.
Our range of nightlights and sleep aids help you create a safe and comforting sleeping environment for your child, while our cute and cuddly Grofriends use clever CrySensor technology to listen out for baby's cries.
Make bedtime a whole lot cuddlier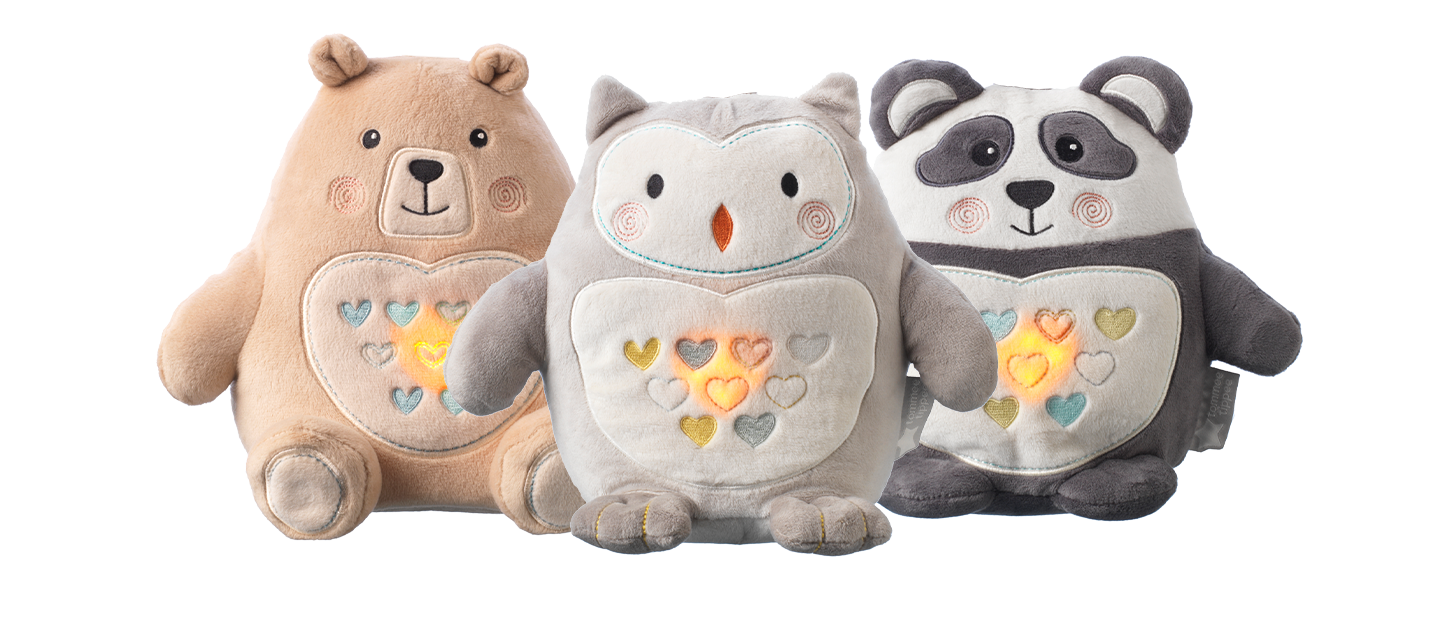 Our cute and cuddly Grofriends are bedtime pals that provide soft lights, soothing sounds and gentle lullabies to help your baby settle to sleep.
They use CrySensor technology to listen out through the night and play soothing sounds or lullabies to help comfort and settle your baby if they wake. 85% of babies sleep better with a Tommee Tippee light and sound sleep aid*
*Source: 222 UK respondents, feedback survey August 2018
Also comes in fun-size
Our Sleep Aids also come in a smaller size to easily attach to your pushchair or car seat – or if your little one just prefers it that way.
The same intelligent CrySensor technology and adorable characters in a compact size!
Our Mini Grofriends are the perfect cuddly companion for when you and your little one are on-the-go. Just fasten them onto a buggy or car seat using the secure Velcro!
Safe sleep, anywhere in the house
Even before your baby is born, thinking about where they will sleep and for how long is a common household discussion. You want your little one to be safe during daytime naps, and in a comfortable and cosy spot for a good night's sleep.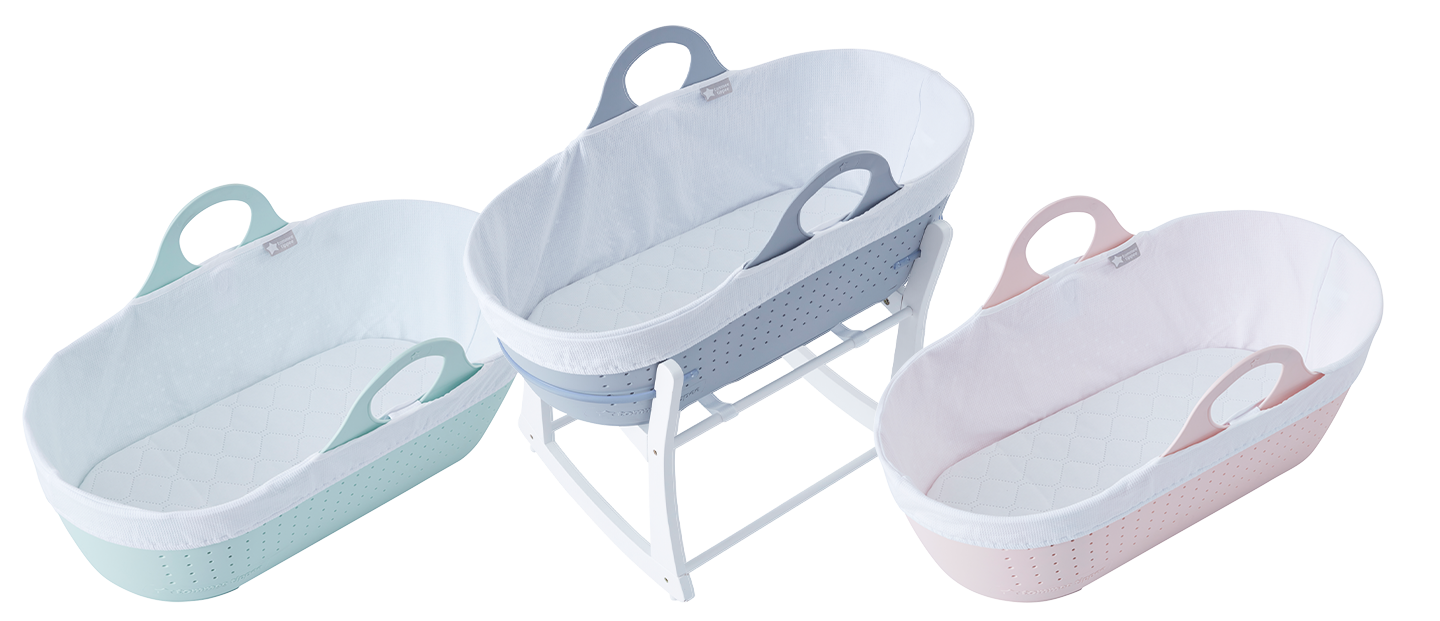 That's where the Sleepee Moses Basket comes in handy! Easily move it around your home to keep your baby close wherever you go. And don't worry, it won't rustle or make noises when you're on the move (unlike creaky wicker baskets) – we'd hate to wake the baby! Safe Sleep
Over 300 air holes for superb ventilation. Strong Integrated Handles
No noise or rustles to disturb baby as you move them.
Easy Clean
Water-resistant mattress cover is wipe clean and machine washable. Portable
Move around the home so you can keep baby close whenever they're sleeping.
Keep an eye on them, without disturbing their sleep
When you're a new parent, you'll probably want to check on your little one many many times throughout the night – just to be sure! This is totally understandable, but we don't want to run the risk of waking them up at the same time.
With Dreamee's smart 360 camera unit installed in baby's nursery, you can watch and listen to your baby comfortable from another room via a high definition monitor. Here are some of it's best bits… Auto motion tracking
As your little one starts getting not so little, they might want to adventure around their nursery. The camera will automatically follow their movements so you can always keep track of what they're up to. Movement sensor mat
Monitor your little one's wriggles while they sleep with our intelligent movement sensor mat. Up to 300M operating range
Why not make yourself a cup of tea or put your favourite movie on – the Dreamee camera keeps an eye and ear on your little one in a massive 300M range. Tilt, pan & zoom around the room
Our smart camera keeps an eye out anywhere around the room so you can watch your baby – whatever they might be up to!
Sleep friendly
It's only natural to want to create a comfortable and appealing space for you and your baby, but when you're planning your baby's nursery, as well as making it look amazing, it's a really good idea to think about how you can make it sleep safe and friendly too. We have some really simple ideas that can help.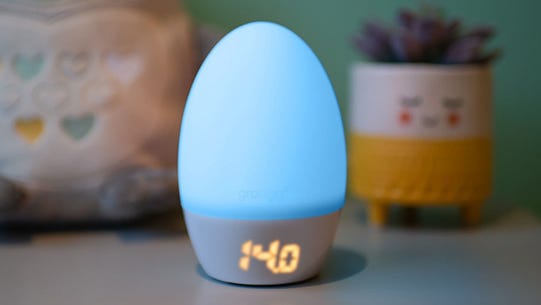 Groegg2
This unique colour changing room thermometer and nightlight helps you monitor the temperature of your baby's room to help ensure they can sleep safely. The gently glowing light shows you at a glance if baby's room is too hot, too cold or just right. The colours coordinate with colour codes on our sleepwear to help you decide what to dress your little one in at night.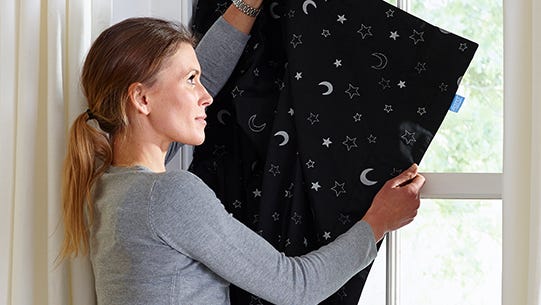 Sleeptight Portable Blackout Blind
It's not always easy to keep baby's room dark, especially on lighter nights or when visiting friends and family. Sleeptight Portable Blackout Blind helps you create a dark sleeping environment for baby anywhere. It uses suction cups to attach to windows to black out the light and is easy to fit and adjust in seconds.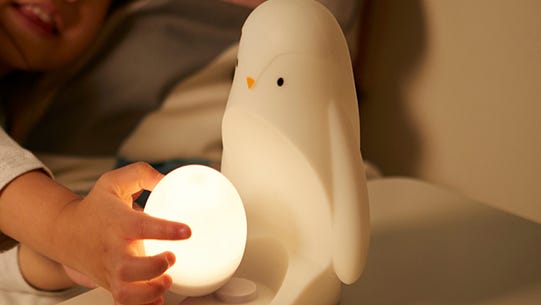 Penguin 2-in-1 Nightlight
This cute bedside companion provides a soft and reassuring night light and as baby grows, a portable light for night-time visits to the bathroom or reading under the covers.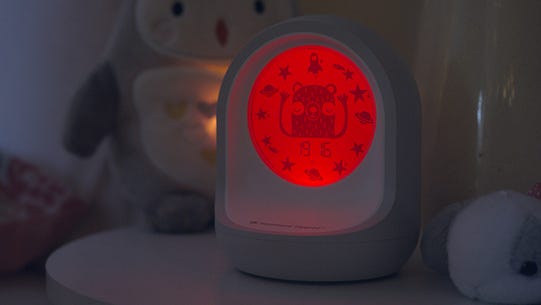 Sleep trainer clocks
Our innovative sleep trainer helps children who are too young to tell the time to understand when it's time to sleep and when it's okay to wake up and get out of bed.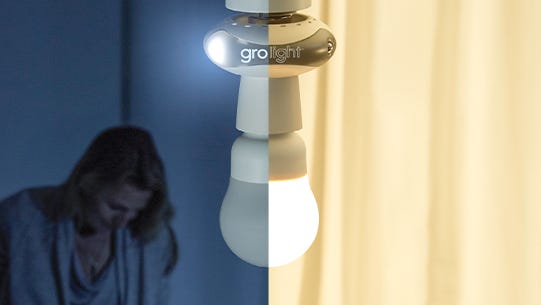 Grolight
The Grolight is an ingenious adaptor that fits easily into your normal overhead light or bedside lamp to fill your little one's room with a soft, comforting glow or a bright light at the flick of a switch - perfect for bedtime or playtime!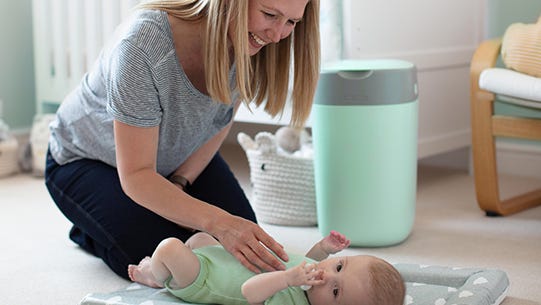 Twist & Click nappy disposal system
There's one thing you're never really prepared for - the smelly nappies. Don't worry, we can help. Our Twist & Click nappy disposal bins help keep your home smell and odour free and save you lots of extra trips to the outside bin. Twist & Click is the only nappy bin that individually wraps each nappy in anti-bacterial, eco-friendly, film for unbeatable odour protection.
Safe Sleepwear
All our baby sleepwear is designed to keep your baby sleeping soundly, no matter how much they wriggle about during the night.