Bottle Feeding
So you're thinking of bottle feeding baby?
You'll have lots of questions.
Which bottle is best? Do I need to sterilise?
How will I ever leave the house if baby needs all this stuff?
There's lots to think about, so take a deep breath and we'll help you work it out with our handy introduction to all things bottle feeding.
Breast, bottle or both?
Breastfeeding, bottle feeding, or a bit of both… there are so many ways to feed your baby. When it comes down to it, you'll choose what's best for you and your little one. Whatever you decide, we're here to help. There's lots to think about, and you'll have many questions, but before we get onto cleaning, sterilising, making, storing and warming feeds, let's start with the bottle.
More than 50 years of bottle feeding experience
We started making baby products in 1965 with one clear goal: to make life simpler for real families. Our two biggest bottle feeding innovations - the most breast-like teat ever and extra-wide neck bottles were both ideas from mums.
Thanks mums… you're brilliant.
Bottles that babies love
Shaped like a breast, feels like a breast because babies prefer it that way.
All Tommee Tippee bottles have one thing in common: the most breast-like teat ever. This easy-latch-on teat mimics the flex, stretch and shape of mum's breast to encourage a natural latch. Just one of the reasons why 97% of mums recommend our bottles.*

Made of soft silicone, the teat feels closer to skin for complete comfort at feeding time. The wide bottle neck encourages your baby's natural feeding action. And the bottle's unique curved, compact shape makes it easy for you to hold baby in the most natural position when they're feeding – close to you.
Our bottles come in a range of sizes that grow with your baby. And baby bottle teats have different flow rates too, so milk can flow faster as your baby grows.

*In a 2012 on-line survey of more than 500 mums who used our Closer to Nature bottles, 97% agreed
Meet the family
Two great bottles, one simple choice.
Closer to Nature Bottle
Advanced Anti-Colic Baby Bottle

•

Breast-like shape for a natural latch

•

•

Flexes like mum for a comfortable feed

•

•

Anti-colic valve in teat

•

Unique anti-colic venting system proven to reduce colic**

•

•

Available in silicone

•

BPA, BPS and phthalate free

•

•

Available in glass
150ml, 260ml & 340ml
Available in different sizes
150ml & 260ml

**We consulted 210 parents who tried using this product to reduce their child's colic symptoms. 80% of them agreed the bottle had successfully reduced the symptoms (June 2017)
More than just a bottle
Finding the right bottle is just the start.
You need to fill it, warm it and feed with it. That's why all Tommee Tippee bottles fit a range of formula dispensers, sterilisers, bottle warmers and bottle bags.
Get Everything You Need With a Bottle Feeding Bundle
Preparation is key
You don't want to forget about preparing your feeds for your little ones...
...our Perfect Prep machines make bottle prep a breeze.
What else might I need?
Hungry babies don't like waiting for a feed and will make their feelings known in the only way they can.
Those late night and early morning feeds when everyone just wants to get some more sleep can be a real stress test.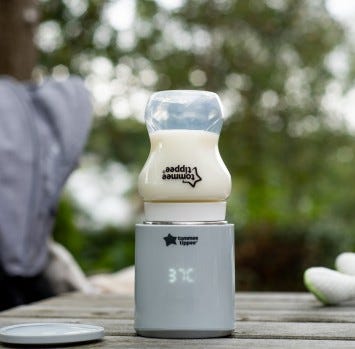 LetsGo Portable Bottle Warmer
Warm a bottle for your baby just about anywhere with this practical on-the-go solution. In just 10 minutes*, the LetsGo Bottle Warmer heats breastmilk or formula to the perfect temperature without the need for boiling water!
*Based on a 150ml bottle.
Remember to sterilise
Now that you're a bottle-feeding expert, you'll need to get to grips with sterilising.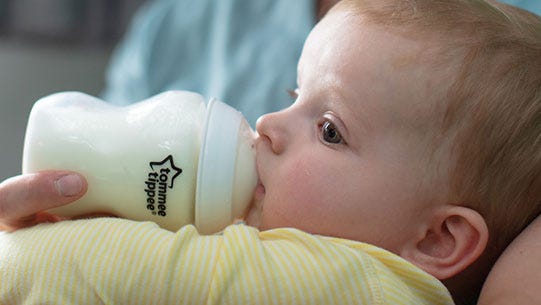 Closer to Nature Bottles
Shaped like a breast. Feels like a breast because babies prefer it that way! Our Closer to Nature Bottles are specifically designed for a natural latch with acceptance guaranteed.
Advanced Anti-Colic Bottles
Advanced Anti-Colic bottles are intelligently designed with Unique venting system that draws air bubbles away during feeding – perfect for reducing nasty Colic symptoms!
Glass Bottles
Our glass bottles are chemical free, naturally odour and stain resistant and are made from sustainable and recyclable material! If you're looking for a more eco-friendly bottle feeding solution, these bottles are perfect for you.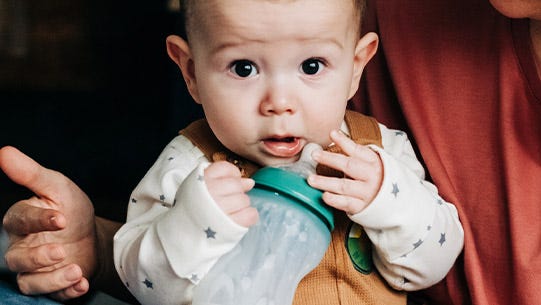 Silicone Bottles
Our smooth, silicone bottles are soft on sensitive skin with a super stretchy teat that mimics the flex and shape of mum's breast. Plus, they are totally BPA free for complete peace of mind.