Perfect Prep
A 30 minute wait isn't good enough, is it?
There's nothing

worse than juggling

baby formula

and a hot kettle...
...while trying to keep your little one happy when all they want is their food! Add trying to do that in the middle of the night, and you've got a nightmare.
Waiting 30 minutes for the kettle to cool down is no longer an option, that's why we've created the Perfect Prep Machine and the Perfect Prep Day & Night Machine – easy to use solutions that have your baby's formula ready in just 2 minutes (ten times faster than a kettle.)
Still, you need to know exactly what you're getting, so let us take you through it.
Take a little time back
Instructions on how to prepare formula are often lengthy and confusing, as if caring for a baby isn't hard enough. As well as trying to figure out how to manually prepare formula, you then have to complete the long list of step-by-step instructions, which includes waiting half an hour for the kettle to cool, cooling the bottle down with cold water and testing that it's the correct temperature yourself.
We've said it before and we'll say it again: 2 minutes. Both the Perfect Prep and the Perfect Prep Day & Night has your feed ready in just 2 minutes. Fully prepared, perfect volume & perfect temperature.
Now all you need to think about is what you'll do with your spare time?
(Personally, we'd go for sleep)
Which Perfect Prep is perfect for me?
Perfect Prep, Day & Night

Perfect Prep

•

Makes a fresh bottle in just 2 minutes.

•

•

Filter system that removes impurities in the water.

•

•

Digital display with step-by-step instructions.

•

Night

-

light to make night-time feeds

simpler.

•

Dispenses correct amount of water for consistent dilution.

•

•

Works with most powered formula milk.

•

•

Adjustable volume for quiet

alerts.

•

Milk delivered at body

temperature.

•

•

Includes

1 x anti-bacterial filter, 1 x 150ml feeding bottle 0m+ with slow flow teat, and 1 x milk storage lid

.

•

•

+2 EXTRA free fiters
Your dream machine
Sure, our Perfect Prep is great...
it does exactly what you want in a speedy amount of time, delivered at a temperature that's just right with water that's been filtered, A+! BUT if you're looking for something that goes above and beyond, the Perfect Prep Day & Night will not disappoint. This machine will become your very best friend when it comes to night-time feeding, and here's why...
You used to have two options: fumble around in the dark trying to prep milk or turn the light on and risk waking up the whole house. The Perfect Prep Day & Night has a gentle night-light that makes night-time feeding so much simpler and calmer, not to mention, the digital display glows in the dark so you know exactly what you're doing at all times. You can also turn the volume right down for the peaceful vibe you so need at 3am.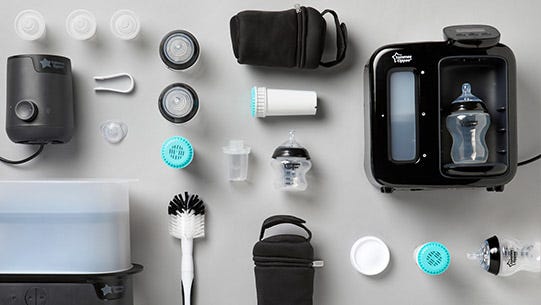 Save yourself money, time & stress
No need to shop around, we've done it for you. Our Complete Bottle Feeding Bundle compiles literally everything you will ever need for bottle feeding your baby. Sterilising, cleaning, soothing, prepping – we've got you well and truly covered.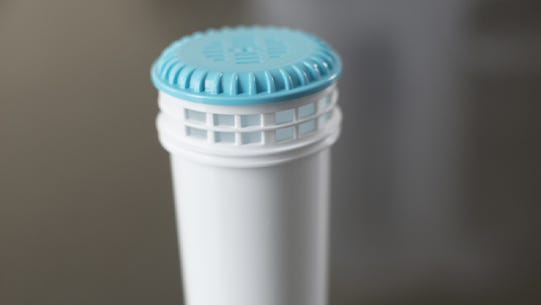 Filtered water for healthy babies!
Our filters last for around 3 months, based on 6 feeds per day, so you will want to replace your filters in your Perfect Prep Machine. The Day & Night machine comes with a free filter replacement so you'll be good to go for half a year, but if you're looking to be prepped for the year – you can buy two more directly from us.
The original, the classic
We know we've raved on about the Day & Night Machine (for good reason), but the original Perfect Prep really is a top-notch product that'll serve you very well when prepping food for your little one. If you're not too fussed about the (very cool) extras you get with the Day & Night, the Perfect Prep is still here for you.
Shaped like Mum, because babies prefer it that way
Babies prefer bottles that are shaped like a breast – they just do. But there's a simple solution. All Tommee Tippee bottles feature the most breast-like teat, ever. One that flexes, bends and feels just like Mum, encouraging a natural latch. 97% of mums recommend.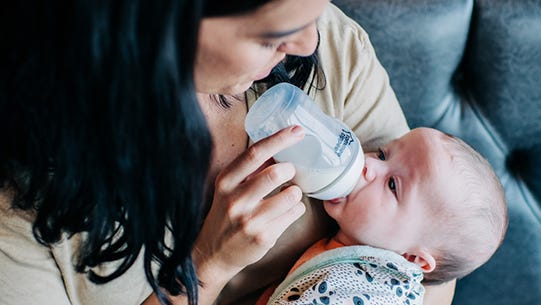 How do you know if your baby is ready for a feed?
Your baby will give you a lot of signs to tell you their ready for a meal! Some to look out for are: sucking on their hands or clothes, opening their mouths, smacking their lips together, (and the worst one) crying in short wails.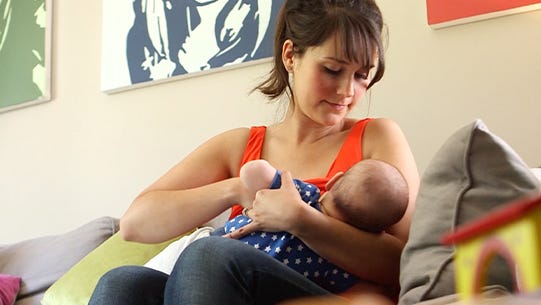 Dark, extra smelly poop is normal!
Babies that are breastfed often have quite different poop to babies that are fed formula. This is nothing to worry about, they have a different diet and that's it. You might notice their poop is darker, firmer and a little smellier - aside from the fumes, this isn't a big deal!