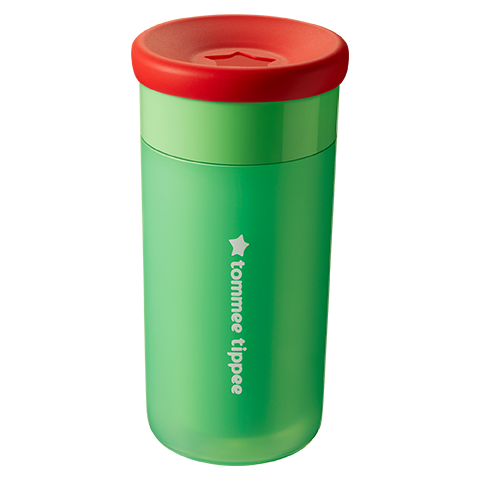 Insulated Easiflow 360° Cup
Category
Getting started
Great to see that you've purchased a Tommee Tippee Insulated Easiflow 360° cup. To help you get started and to keep it working effectively, we've added all the guidance you should need, plus some handy hints, tips and troubleshooting advice.
WARNING
Do not use with hot liquids or fizzy (carbonated) drinks.
How do I use my Insulated Easiflow 360° cup?
Before you use your cup for the first time, gently push the vent with your finger to ensure it isn't sealed shut.
To use your cup remove the travel lid and valve. To remove the valve, grip the tab in the center and rotate it anti-clockwise until it unlocks. Once you've unlocked the valve, pull the valve upwards to remove for cleaning and to add liquid to the cup.
When adding liquid to the cup do not fill past the max fill line. Replace the valve by lining up the notches with the ribs in the cup. Push down firmly and rotate clockwise to lock the valve in place.
To start drinking, encourage your child to place their lip along the rim of the cup and gently suck.
If you're transporting liquid in the cup, secure the travel lid on top.
Cleaning & Maintenance
How do I clean the Insulated Easiflow 360° Cup?
Simply remove the valve from the cup and wash both in warm soapy water. Dry thoroughly and leave disassembled until you're ready to use your cup again.
Can I put my Insulated Easiflow 360° Cup in the dishwasher?
Yes, the cup and valve can go on the top shelf of your dishwasher.
Can I sterilize the Insulated Easiflow 360° Cup?
Yes you can. But it's only suitable for cold water sterilization, following the manufacturer's instructions. Do not sterilize by boiling, steam or microwave, these will damage the cup.
Troubleshooting
Can I put my Insulated Easiflow 360° Cup in the microwave?
No. The Insulated Easiflow 360° Cup is not suitable for the microwave.
Why is my Insulated Easiflow 360° Cup stained?
As with other things around the kitchen, your cup can become stained and yucky-looking in the dishwasher or even when you hand wash it (blame that Bolognese sauce or carrot soup). Don't worry, it is still perfectly safe to use.
Can I warm liquids using the cup?
No, the Insulated Easiflow 360° cup is not suitable for a microwave oven, conventional oven or any other heating device. We also only recommend cold liquids.
How To Use Insulated Easiflow 360 Cup
How To Clean Insulated Easiflow 360 Cup