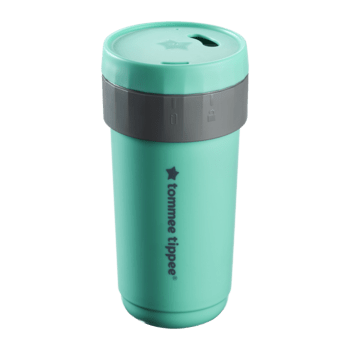 3-in-1 Insulated Convertible Cup Support
Category
Thank you for purchasing a Tommee Tippee 3-in-1 Insulated Convertible Cup. This product support page is here to help you learn how to use, clean and care for your cup, and to help with any queries you may have.
Parts guide

Soft straw
Hard valve
Hard straw
Top lid
Bottom lid
Cup base

How to use

Manual

Still need help
Guidance on how to clean and maintain your 3-in-1 Cup

Before first use, disassemble and thoroughly clean. Place components in boiling water for 5 minutes (excluding the insulated cup base – this is not recommended). Before each use, clean carefully. Always wash the product immediately after use.

1. Rotate the top lid anti-clockwise to expose the straw and keep rotating until the mark is aligned with the open padlock icon. Remove the top lid.

2. Unscrew the bottom lid and remove hard straw. Use your thumb to push out the hard valve from under the lid.

3. Remove the silicone straw from under the lid.

4. Wash all parts thoroughly in warm soapy water and rinse in clean water.

Please note:

Do not clean with solvents or harsh chemicals.
All parts can be washed in the dishwasher (top shelf only). Except the insulated base as this is not recommended.
Do not allow product to come into contact with oil based food (e.g. oil/tomato based sauces) as staining will occur.
Insulated cups are only suitable for sterilization by cold water tablet/liquid solution only.

Reassembling your cup

Please follow these important instructions. Always shake parts after washing to remove excess water and leave to air dry before re-assembling. Your cup could leak or be difficult to drink from if not assembled as follows:

5. Align the silicone straw and the hard valve, press together. Ensure part A of the soft side is fully pushed through the hole of the hard side. This is essential to make sure the valve functions correctly.

6. Insert the soft silicone straw with the hard valve into the bottom lid's straw hole. Push the hard valve firmly until the three prongs lock into place and pull the straw gently into position. Reattach the hard straw.

7. Place the top lid on the bottom lid and align the mark with the open padlock icon and rotate clockwise until the mark is aligned with the closed padlock icon.

8. Screw assembled lids onto cup base and tighten.

| | | |
| --- | --- | --- |
| | | |
| To use with the straw, rotate the top lid clockwise to align with the straw icon. | To use with the free flow spout, continue to rotate the top lid clockwise to align with the water drops icon. | To use as an open cup, simply take both lids off and use the cup base as a tumbler. |

Note! Please ensure the icon line marks are fully aligned for each position to avoid leakage.

Manual

Still need help?
Inspect before each use.
Do not store or leave in direct sunlight or near a source of heat.
Do not store with or allow to come into contact with solvents or harsh chemicals.
Not suitable for use in a conventional oven, a combination microwave oven or any other heating device.
Not suitable for microwave use.
Suitable for milk, water or juices that don't contain pulp.
DO NOT use with fizzy (carbonated) beverages, formula or hot liquids.
Always use this product with adult supervision. Accidents have occurred when babies have been left alone with drinking equipment due to the baby falling or if the product has disassembled.
Never use feeding spouts or straws as a soother/pacifier.
Continuous and prolonged sucking of fluids will cause tooth decay.
Tooth decay in young children can occur even when non-sweetened fluids are used. This can occur if the baby is allowed to use the cup for long periods through the day and particularly through the night, when saliva flow is reduced or if it is used as a soother/pacifier.
Always check food temperature before feeding.
Throw away at the first signs of damage or weakness.
Keep components not in use out of the reach of children.
Never attach to cords, ribbons, laces or loose parts of clothing. The child can be strangled.
To avoid scalding, do not use the cup with hot liquid.
Do not use the cup or any part of the cup as a toy.