Parent Diaries
How bottle feeding helped my combination feeding journey
Simona's Combi Feeding Journey While Travelling
We catch up with Simona who explains how bottle feeding helped during her combination feeding journey, plus how it supported her family as they travelled. Simona lives in Spain with her ten-month-old son Leonardo and husband Connor.
When our baby Leonardo was born, I wanted to combine breast feeding with bottle feeding. However, as I wasn't producing enough milk, for me bottle feeding was a go-to method from about day 3.
I was always planning on combine feeding and overall, we had a great experience with it. Leonardo never had issues with swapping between breast and bottle. Lot of moms said to me, that if I combine feed, my baby wouldn't take my breast anymore, but this wasn't the case. He could swap from breast to his bottle any time of the day without any issues.
We are real travellers and spend most of our time on short getaways or long international trips. Due to this, for me, bottle feeding was always the easiest option. I prepare hot or cold boiled water, sterilised bottles and the baby formula and I've been able to make up a drink on-the-go literally within seconds ready for our baby.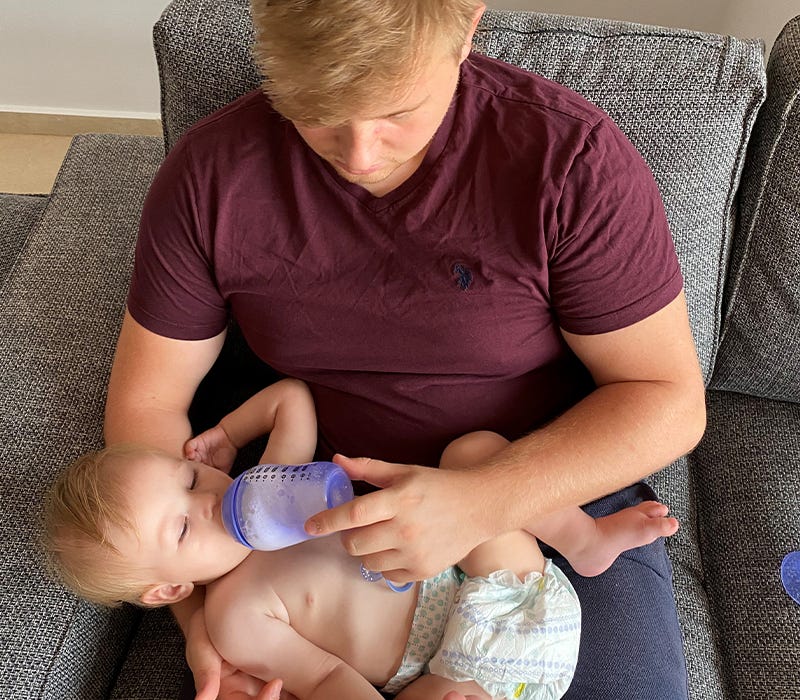 The closer to nature bottles were the perfect fit from the start and Leo loves them. We are extremely thankful to have found them. My husband and I also absolute love the Perfect Prep Day & Night, we could not imagine our lives without it. We even take it with us when we travel!
My advice to new parent's is to not be afraid to try it. You can always combine feed or go back to breastfeeding if you prefer. I know many moms who combine feed and have never had an issue with their baby not wanting to breast feed anymore. Just do as you feel when it comes to feeding your baby.