Parent Diaries
How bottle feeding helped me rest post-birth whilst dealing with my little ones colic symptoms
Faie's Bottle Feeding Journey when Dealing with Colic
We hear from Faie as she explains how her little one struggled with colic symptoms from three weeks old. We learn about the key signs of colic and how our anti-colic bottles were able to help create a more comfortable feeding journey for her and her son. Faie lives in the UK with her family and son.
Early on I planned on doing both breastfeeding and bottle feeding as it was really important for me that my partner gets involved with everything to do with our son. Overall, bottle feeding really helped my feeding journey especially because I had a c section and my healing process took longer. My body was shutting down and I struggled to find a good comfortable position to feed. With bottle feeding, my husband and other family members could help, and I would have more time to rest and recover
My little one really struggled with colic from 3 weeks old. My son never used to cry. Even now at 8 months old he's such a calm and quiet baby. The first thing that alerted me to his colic symptoms was his crying. He was crying a lot and his tummy would go really hard and he would always clench his fists. He was so inconsolable, and this made me feel like a failure as a mum. At the time I felt very overwhelmed and helpless.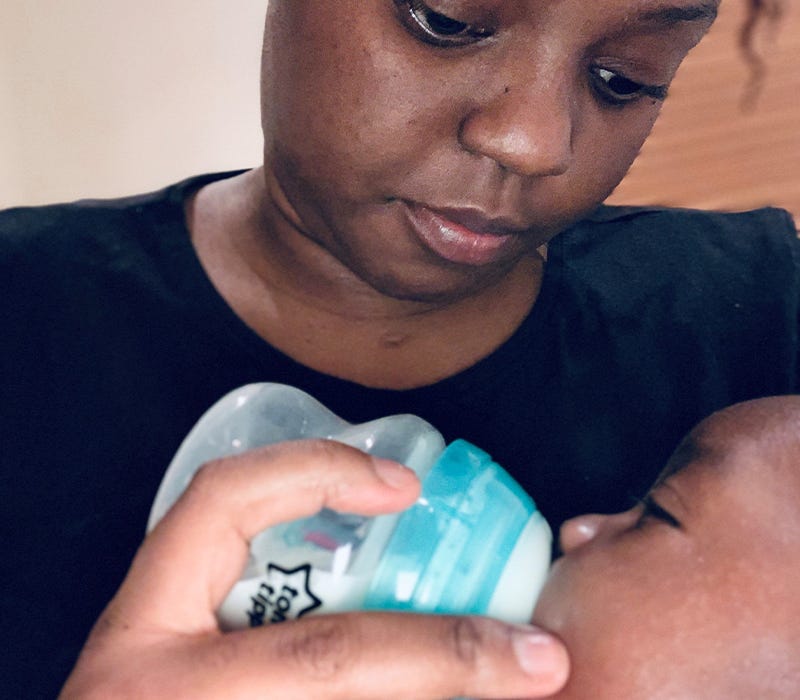 I was using other branded bottles at the time that were meant to be "anti-colic", but they never really helped. As a first-time mum, this was very worrying, and each day was becoming more and more stressful. I decided to try the Tommee Tippee anti-colic bottles and I must say, I saw a changed within a few days. My little one wasn't struggling as much. We were sleeping better and became much happier.
My little one is now 8 months old and we are still using these bottles. The size and shape are perfect for his tiny little hands to hold as well and practice feeding himself
My tips for to a first time Mum would be that for bottle feeding to be easier, you need to be very organised. I struggled at first with the night feeds as I would take long to make the bottle and my son would just cry. But the Tommee Tippee Perfect Prep machine made it easier and quicker. When travelling or out and about, I used ready-made formula and it was so easy to just pour into my bottle, and then feed my little one. There's really no need to feel inconvenienced when bottle feeding. Just organise yourself and everything will be fine.