Hints & Tips
Is It Better To Make Your Own Homemade Baby Food
Is It Better To Make Your Own Homemade Baby Food
When it's time to transition your little one onto solid foods, many moms wonder whether going homemade is better than opting for commercially produced baby food.
The short version is that there's no real right or wrong answer to this question. What's "better" – as always – depends on what makes you feel most comfortable.
We've put together a list of the pros and cons on homemade baby feeding, as well as provide handy hints on how to get started on making your own healthy baby food if you do decide it's the right thing for you and your baby.
Advantages of making your own baby food
Some people say that our long-term likings for certain flavors, textures, and types of food stem from our early years of eating. With this in mind, the main advantage of making homemade baby food is having the ability to feed your baby a variety of fresh, tasty, and nutritious meals from day dot. It may also mean you're less likely to be raising fussy eaters!
Other advantages of homemade baby food:
Making your own baby food is generally less expensive than commercial options, particularly if bought and cooked in bulk. You can make sure that you get exactly what you pay for.
When it comes to homemade baby food, you have the opportunity to serve up a variety of nutritious but delicious options. You can broaden your baby's taste palate by pureeing fruits or vegetables outside of the ranges you might usually find in the baby food aisle of the supermarket.
With non-processed fresh and healthy food, you don't have to wonder about how long your baby's food was sat in the shipping factory or on the supermarket shelf for. Plus, it tastes better and you know exactly what your baby is eating without having to worry about any unexpected ingredients.
Making your own food means no single use plastic packaging to deal with. Most store-bought baby food now comes in plastic rather than the old school mini glass jars, and can be difficult to recycle.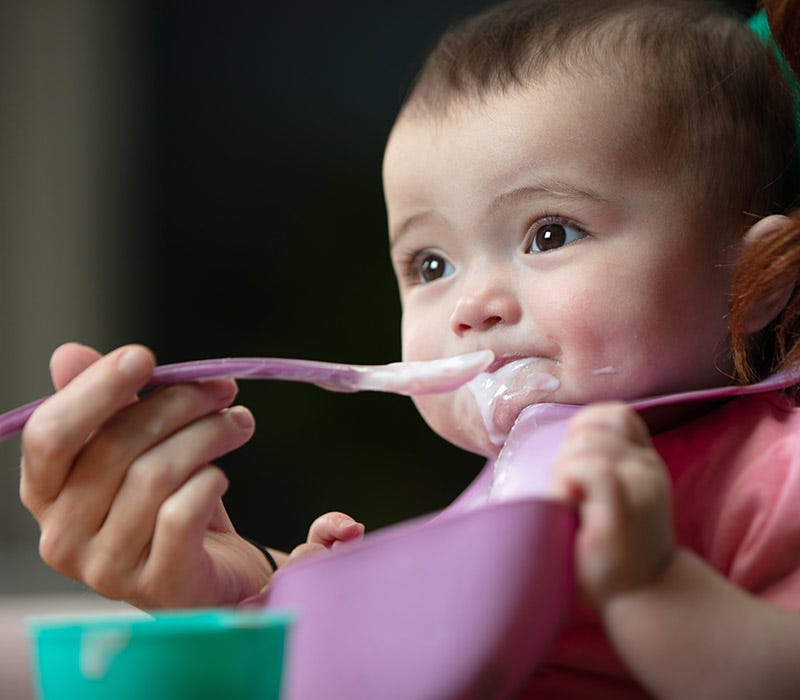 Disadvantages of making your own baby food
Of course, there are some drawbacks that may make you less willing to make your own baby food, for example:
It's obviously more time consuming to prepare and cook your baby's meals from scratch than it is to pick up some jars on your weekly shop.
Pre-packaged baby foods promise multiple servings of carefully measured amounts and come ready to eat, making them a more desirable choice and convenience – especially when on the go.
Most pre-packaged baby foods can be stored in cupboards until open, whereas freshly made baby food may take up more refrigerator space and spoil a tad faster.
Have the best of both worlds
Most people find their own combination of homemade and shop-bought baby food. A pouch or two in your diaper bag for those on-the-go moments can be a real lifesaver and a stock in your fridge of freshly made mushes for at home dinners feels great. But whatever you choose, homemade, shop-bought or a bit of both, it's whatever works for you and your baby that matters.
What you need to get started on your own homemade baby food
Before you get started on your baby food prep, make sure you're clued up on foods you should avoid giving to your baby.
Then you'll need to plan out your shopping list, and why not do some research into tried and tested recipes from other moms?
Weaning Guide: Where to Start
A baby food maker or food processor will also come in handy for preparing your baby's delicious homemade baby food.
You can also check out some of our popular products that are designed to help make the transition onto solids easier for your baby, such as our First Transitioning Spoons and Easy-Scoop Bowls.
FAQs
How long does homemade baby food last?
Your homemade baby food will last in the fridge for up to 42 hours if stored in the refrigerator – which is recommended but lots of people bulk cook baby food and store the food in ice cube trays. Then freeze. Then simply pop out some ice cubes into a bowl and let it defrost for meals later in the day.
Can I use a normal blender to make baby food?
A regular blender will work fine for mixing and liquidizing your ingredients for homemade baby food, just be sure to chop the ingredients down to size first.
There are also loads of handy appliances designed especially for making baby food, like our Quick Cook Baby Food Maker – the quick and easy way to blend healthy ingredients into smooth, perfectly proportioned puree.