Weaning
When it's time to move on from milk...
...it's the start of a great big food adventure with baby. And while things may get messy, we're here to help make it fun and healthy too.
For everything you need to prepare baby's meals, to their first cutlery, to cups, bibs and tableware, we've got you covered for a great start to healthy appetites and mealtime manners.
More than 50 years of experience
Tommee Tippee started with a clever cup with a weighted base that wouldn't tip over. That was over 50 years ago, and we've never stopped creating products designed to make every day life easier for parents and better for baby.
First tastes to little diners
You can always be a five-star chef in your baby's eyes with the Quick Cook Baby Food Maker, which allows you to make nutritious homemade meals for your little one in minutes.
As baby grows they'll want to feed themselves, so spoons and forks with chunky handles help them dive into our easy scoop feeding bowls. They might not hit their mouth every time, so our bibs are there to help keep something clean.
Quick cook baby food maker
We know that you care about what your kids are eating
(even if it does end up all over the floor). But we also know that cooking isn't always easy. It takes time and effort.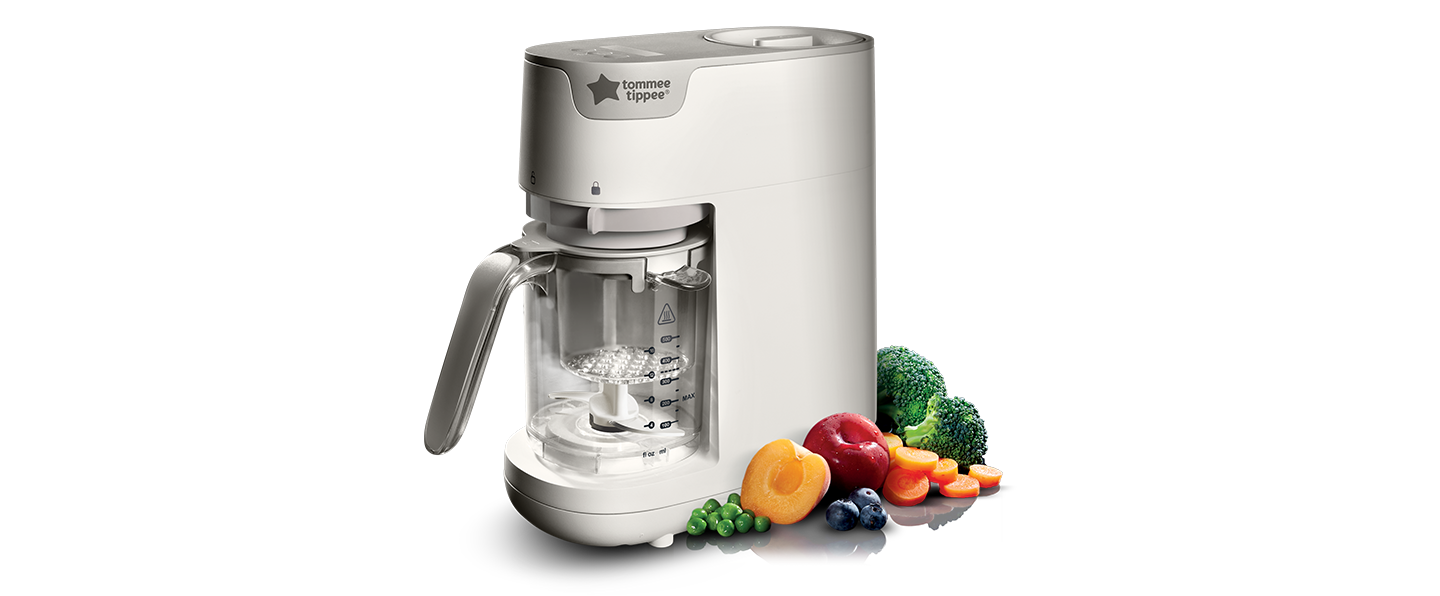 So our Quick Cook Baby Food Maker is what parents have been waiting for. It creates quality home made meals for baby in minutes. Even if your cooking skills are only up to burnt toast.
Specially designed to steam and blend home-made baby food in minutes so you can spend less time cooking, less time cleaning and more time with your cute little dinner date. No need to struggle to make your baby nutritious meals. The Quick Cook Baby food maker makes it super easy to be a super chef.
Dining out and about
When it comes to little ones, we take an 'eat anywhere' approach as a way of introducing little ones to sharing tables and mealtime manners.
From easy scoop bowls, to bibs that roll and go to easy ways to warm and serve food and snacks on the go, we try make dining out as simple and mess free as possible. So whether you're enjoying picnics in the park or lunch with all the relatives your little one can join in and feel part of the family.
Tableware
We all want the same things: happy baby, full baby, healthy baby, clean kitchen. Although keeping your kitchen pristine might not be at the top of the list, it's pretty far up there!
At Tommee Tippee, we have designed a range of products to help your kitchen table (and any splash zones) stay as tidy and organised as possible. Plus, all products are perfect for when you're on the go – just give them a wipe and you're all set.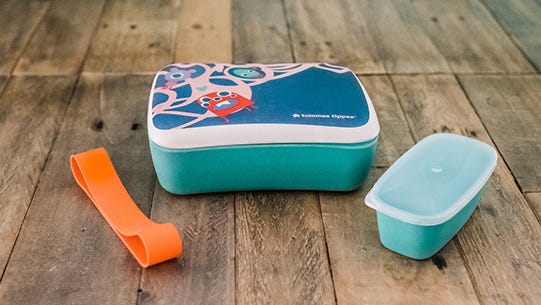 Bamboo lunchbox
Little monsters love to munch. This colorful, durable 2-piece lunchbox set means you can always have snacks on hand to keep them smiling.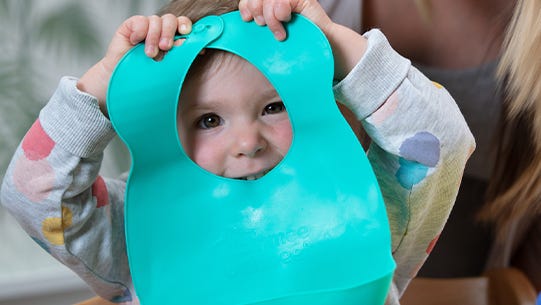 Easi-roll bibs
At home or out and about these clever bibs are probably the only bibs you'll ever need.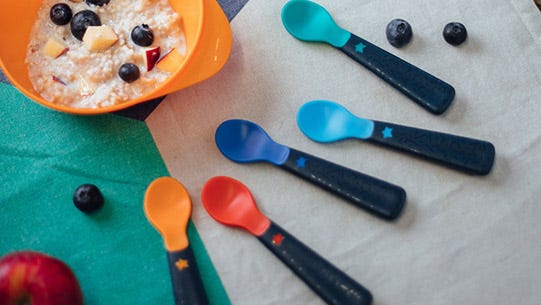 Weaning Spoons
From soft tips for tender mouths to long handles for reaching to the base of jars. Our baby cutlery sets are designed to help helo you though from those first tastes to confident little eaters.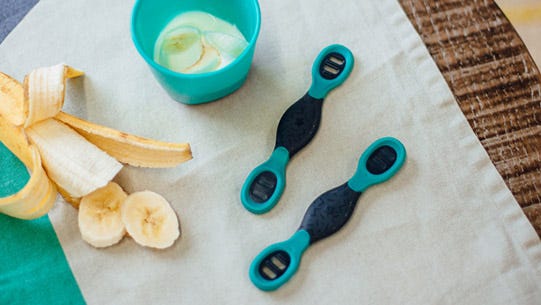 Smushee Weaning Spoon
Just dip, no scoop! This cleverly designed self-feeding spoon allows your little one to easily start to learn how to self-feed by just dipping the spoon in their food. Plus, it's reversible, so there's no right or wrong way to hold it – perfect for babies just getting to grips with feeding!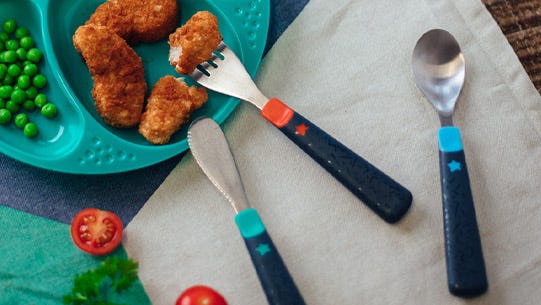 Grown Up Cutlery
Their very own knife, fork and spoon – so grown up! Lightweight and easy to hold, this first cutlery set allows your toddler to move from soft-handled feeding spoons to metal cutlery more easily. Maybe their next step is to help with the washing up?!