a chance to play, learn, grow and bond

with your little one

as they learn to enjoy

being in

lovely warm

water.
Whether you opt for a soothing soak before bedtime or some splashy, messy excitement, we can help you make bathtime, fun, safe and comfortable for you and your water baby.
Every second of every day, your baby is learning something new. To you it may look like playtime, but to baby it's the start of their education.
Bathtime is a great time to help your little one develop their hand-eye coordination as they pick up and play with toys in the water. At first, your baby may not seem to have much control over their hand and finger movements, but learning how to squeeze and squish water toys helps them coordinate brain and muscles to develop fine motor skills. And they'll soon learn that water poured in at the top, comes out at the bottom, to understand that what they do affects the world around them.
Clean and safe
Looking after your baby and trying to keep your home clean and tidy may feel like a challenge too far sometimes. That's why we make all our products as easy to clean as possible. All our bath toys are designed to resist mould and mildew, and if they do get a bit grubby then a quick soak in the dishwasher will sort them out. They're BPA and BPS-free too, so you have no worries about them being safe for baby to play with.
Whether it's a dash to the bath, a trip to the pool or adventures on the beach, our range of bathtime toys featuring characters from the Grofriends collection is ideal for any kind of water-based fun.
Pour on the giggles with our Stack 'n' pour bath cups that stimulate baby's senses as they see and feel the water flow in different patterns and learn key development skills whilst enjoying bathtime.
While most children love splashing around in the water, bathtime can sometimes be uncomfortable for grown ups. And, dare we say it, sometimes there are tears too.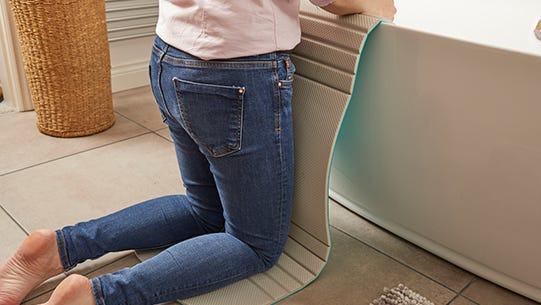 We've got your back
With our Knee 'n' elbow cushioned rest you can watch your child safely in the bath and give your back, knees and elbows a break, using the padded comfort of this easy to use bath rest.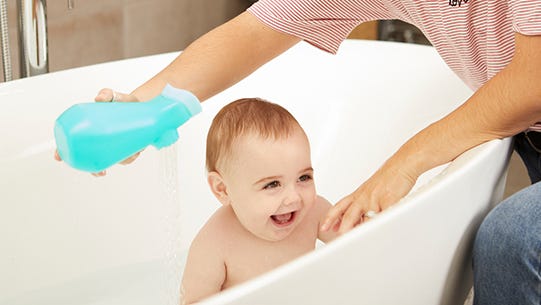 No more tears
If your little one really doesn't like the idea of soap in their eyes (who does?) we have the answer to hair washing tears and tantrums. Our simple and stylish hair rinser makes soapy suds with a gentle rainfall shower or quick rinse without water going in their eyes.