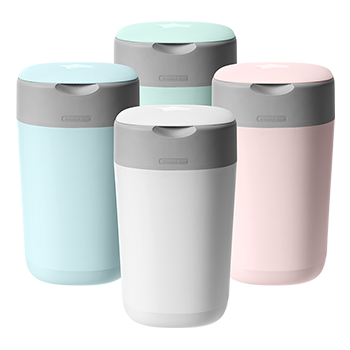 Twist & Click Advanced Nappy Disposal System
Category
Getting Started
Great to see that you've purchased a Tommee Tippee Twist & Click Nappy Disposal System. To help you get started and to keep it working effectively, we've added all the guidance you should need, plus some handy hint, tips and troubleshooting advice
EASY TO SET UP
Pull film evenly out of refill.
Gather film together and push through.
Remove lid from base of unit.
Tie knot in film.
Use hook to secure knot.
Replace lid on base of unit.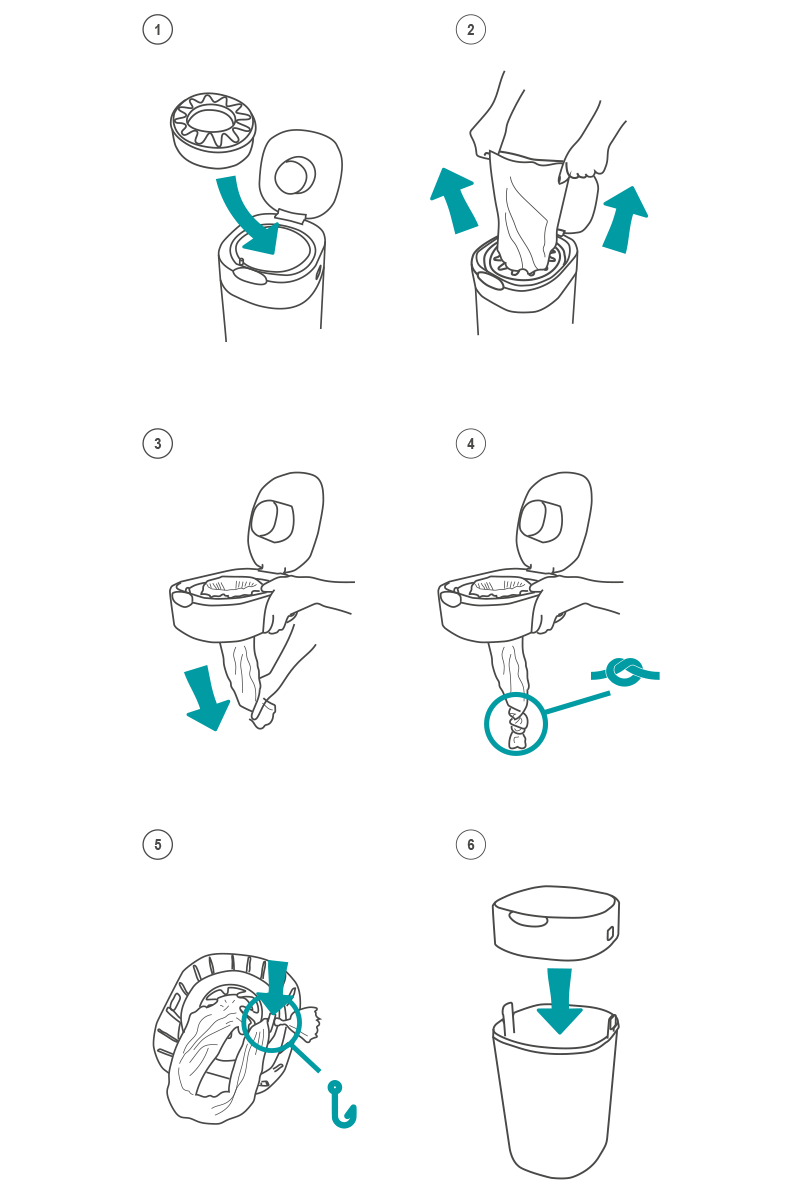 EASY TO USE
Open lid ready for first nappy.
Push nappy until gripped.
Twist 360° clockwise until you hear the click. Nappy is now sealed in anti-bacterial film.
Plunge lid onto twisted film. Fresh film is ready for next nappy.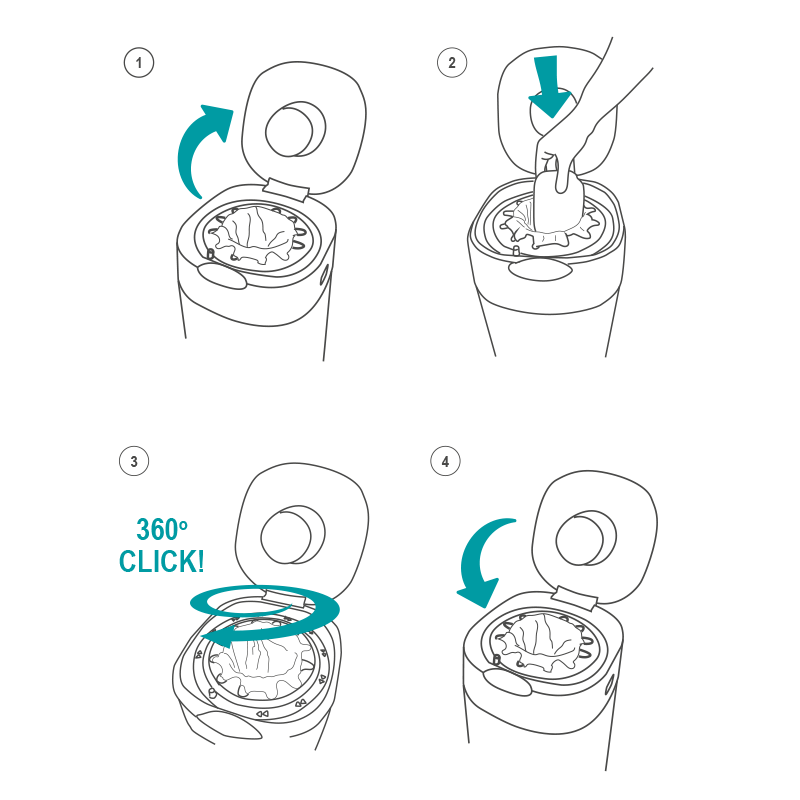 EASY TO EMPTY
Remove lid from base unit.
Unhook knot and drop into base.
Pull additional film through to cut.
Use cutter blade to cut film.
Tub is ready to empty.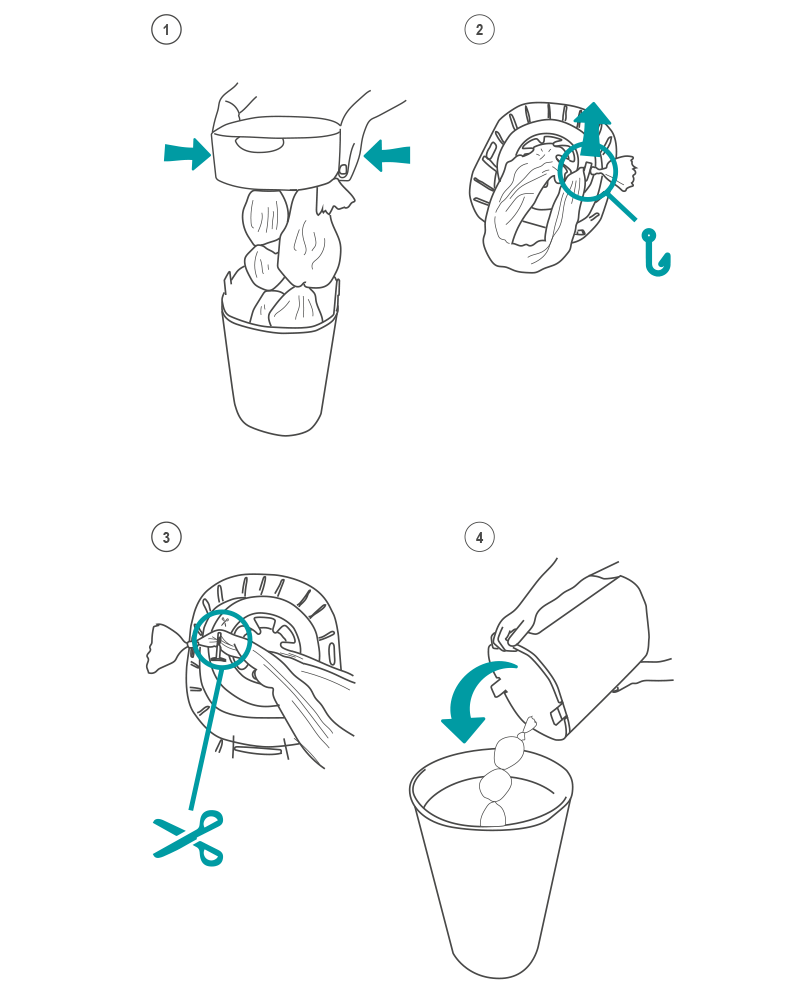 WARNING! The cutter blade is very sharp. Keep hands clear of the blade area and be very careful when cutting the film.
Cleaning & Maintenance
How do I clean my Twist & Click Nappy Disposal system?
Nappies are sealed away in anti-bacterial film, so the bin stays pretty clean. But you can always wash it with soapy water, or use bicarbonate of soda. Simply sprinkle the bicarb liberally into the bin, leave overnight, then rinse with water.
Troubleshooting
How many nappies does the bin hold?
That depends on what size your baby's nappies are. The bin should hold up to 30 nappies (based on size 1 nappies).
What refill should I use for my Twist & Click Nappy Disposal System?
Use Tommee Tippee refill cassettes marked 'fits all bins that twist'. Sangenic TEC & Simplee Sangenic refills do not fit this bin.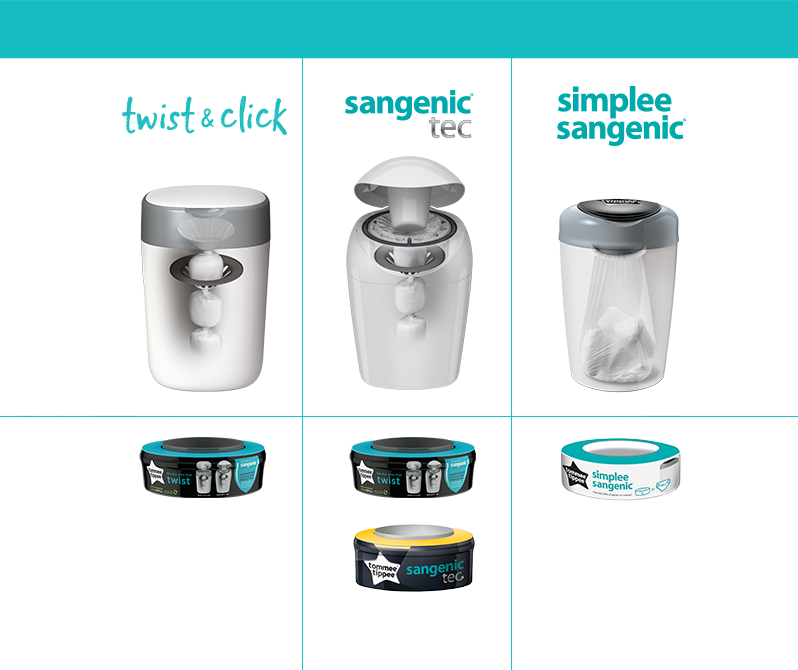 Twist & Click Nappy Disposal System Features and Benefits
Twist & Click Nappy Disposal System How to Use