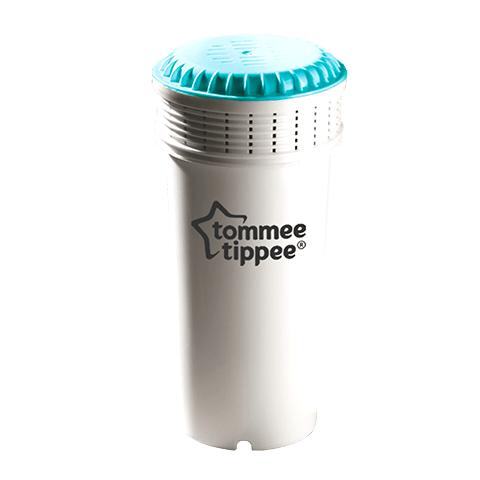 Perfect Prep Filter
Category
Thanks for purchasing an anti-bacterial Tommee Tippee Perfect Prep filter! This product support page is here to help you learn how to use it, and to troubleshoot any queries you may have.
Making life easier for you, our filters can be used with water straight from the tap (so there is no need to pre-boil the water using a kettle or use bottled water) and feature a unique filtration membrane which removes bacteria and other contaminates that can be found in water. This ensures that your water is clean and safe to make a bottle feed. Each one is specially designed for use with our Perfect Prep machines.
All set and ready to get started? Read on to learn all about your new filter, and to find some answers to some of the most frequently asked questions we get asked.
Remember, if you need additional support, please don't hesitate to contact us!
Am I using the right filter?
We are aware that some people are buying standard water jug filters, rather than Tommee Tippee filters, for use in their Perfect Prep machines. Most standard water filters do not include an anti-bacterial filtration membrane so will NOT remove bacteria. It's therefore extremely important to ensure that you are buying and using the correct Tommee Tippee anti-bacterial filter.
Take a look at the video below for more information on why the Perfect Prep Filter is the best for use in the Perfect Prep Machine.
Do these filters fit both the original and Day & Night Tommee Tippee Perfect Prep machines?
The Tommee Tippee plain white filter and blue/ white filters are compatible with both Perfect Prep Machines.
Priming Your Filter
Only ever handle the filter by holding it by the blue cap.
Remove the filter from packaging.
Remove the sticker from the top of the filter.
Fill a bowl with cold tap water.
Submerge the filter in water and gently agitate until the bubbles stop.
Your filter is now ready to fit into the water hopper.
Why do I need to submerge the filter before use?
Submerging the filter before you use it makes sure that any air bubbles or loose particles within the filter are removed prior to use. If bubbles remain, it could affect the operation of the machine. Submerging should only take a minute or so.
Once you place the filter into the machine, use the first bottle cycle without adding formula as a final flush to complete this process. Once complete, you're ready to go!
Remember, if you've got any questions or concerns about this process, feel free to contact us to chat more.
How often do I need to change the filter?
On average each filter should last around 3 months, however this depends on the frequency of use and what size bottles you're preparing. The Perfect Prep Machine does have a warning light that will tell you when the filter is due to be changed. The first light (when solid) is purely an indicator. When the light flashes, the filter physically requires changing.
Replacement filters are available from the Tommee Tippee website, please follow this link to shop.
How long can I leave unused water in the tank?
Water is a food stuff, so we recommend using within 1-2 days. If water has been left in the hopper for longer, then please empty and refill before next use.
Sometimes when I change the water filter there are black particles on the cartridge. What are they?
You may find that there's a small residue of black carbon in the bag or on the surface of the cartridge; this can happen and it's nothing to be concerned about. These dust particles are harmless and will be reduced during the initial set up process when submerging in clean fresh water. The carbon used in the filter is food grade certified and therefore poses no harm to your little one.
Do Tommee Tippee Perfect Prep filters have a use-by date?
Our filters do not have a use-by date however they have been certified to food grade and are sterilised so they should remain unopened until you are ready to use them.
How to replace the filter on your Perfect Prep machine