TOMMEE TIPPEE HQ, 24TH NOVEMBER 2016
Every month, our Careline team helps parents desperate to find a cup or soother that their little one just can't do without. We search our cupboards, warehouses and even our own desk drawers to find exactly the right one. Of course, sometimes it's just not possible to find a product that has been discontinued for a long time, but it doesn't stop us from trying!
Last Monday (14th November 2016) evening, our team flagged a very special Tweet from @GrumpyCarer, who you may now know as Marc Carter. Marc described how his autistic son Ben is reliant on one particular Tommee Tippee sippy cup — without it, he simply refuses to drink and in the past he has even been hospitalised with severe dehydration.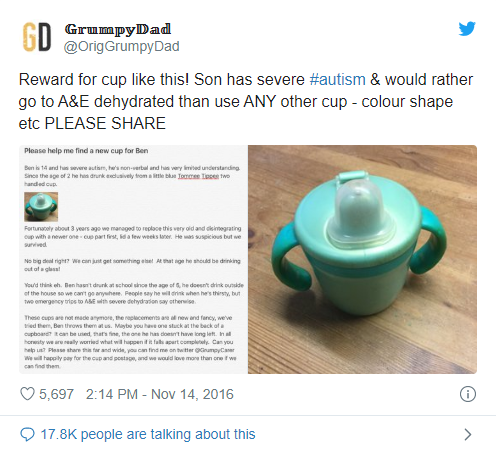 Marc and Ben's story touched thousands of people and the search for Ben's cup soon spread across the world. Just like everyone else, we were touched by Ben's story. It was clear from the beginning that this wasn't just a cup for Ben, it was a lifeline for him. We were delighted to get involved and when we spoke to Marc the following day, we offered to do everything we could to help Ben and his family.
Initially this meant putting our social media team to work, fielding the hundreds of Tweets Marc received, and arranging for any cups matching Ben's to be sent via the Tommee Tippee freepost address. Meanwhile our search continued, with Tommee Tippee staff in the US, Australia, France and Hong Kong all searching for Ben's cup. We uncovered the original designs, dozens of old cup ranges, and finally a sippy cup that just might match Ben's. We still had to confirm the colour with Marc, but behind the scenes there was an even bigger development. Our factory team discovered that the tools to make the original cups were still stored away and, crucially, they were in a usable condition.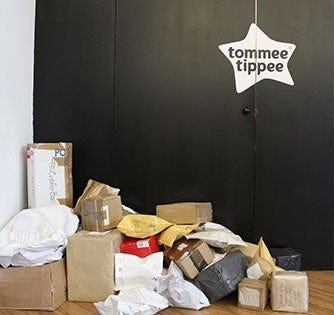 While we confirmed that these were the correct tools for Ben's cup, the donations from Twitter and Facebook started to arrive. We received over 40 cups in one day; an amazing response – especially as Marc's original Tweet was hopeful of finding just one more. The response across Twitter and Facebook has been incredible. Everyone who shared Marc's post, tagged their friends and rummaged through their cupboards has helped to create this fantastic result. A huge thank you goes out to everyone involved for their unstinting support and kind messages — the search couldn't have been a success without you!

A few weeks later, we were delighted to confirm that we could start production on a run of the original sippy cup. This ensured that Ben has a lifetime supply and that his family won't ever have to worry about finding another cup for Ben.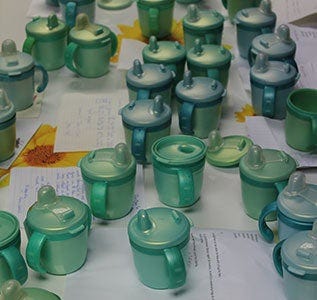 Stay up to date with our latest news, offers & events.